School of Business & Technology
---
The School of Business and Technology provides a unique offering of online educational programs in business and technology. The degrees prepare graduates for leadership in the rapidly evolving global business and technology communities, as well as highly technical jobs related to computer science and information systems.
Students apply modern business and technology management practices to real-world organizational challenges and hone their competitive edge by gaining applied organizational skills in team collaboration, conflict management, project management, process improvement, and technology deployment.
The School of Business and Technology at Aspen University has been awarded the status of Candidate for Accreditation by the International Accreditation Council for Business Education (IACBE) located at 11374 Strang Line Road in Lenexa, Kansas, USA. For a listing of the degrees eligible for accreditation, click here. Aspen University has been reviewed and approved as a provider of project management training by the Project Management Institute (PMI).

Business Degrees
Technology Degrees
Dean:
Jimmie Flores, Ph.D., D.M.
Do what you can, with what you have, where you are.
Theodore Roosevelt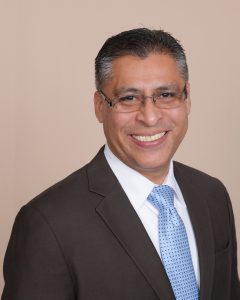 Dr. Jimmie Flores has held management and leadership positions in major companies including Shell Oil Company, The Prudential, and USAA. At USAA, he managed the $11.5 million budget for the IT department. He has extensive experience developing and teaching courses for organizations in the disciplines of Project Management, Human Resources, and Information Technology. Dr. Flores founded a global IT enterprise, and has operations in India and The Philippines. Dr. Flores has written several books including How to Become a Proficient Online Learner.
He has earned two doctorates and seven master's degrees, consisting of a Doctor of Management in Information Systems and Technology (University of Phoenix), Ph.D. in Human and Organizational Development and M.A. in Human and Organizational Systems (Fielding Graduate University), M. Ed. in Curriculum, Instruction, & Assessment (Using Web 2.0 Technologies in Higher Education), M.S. in Nonprofit Management, M.S. in Management (Area of Emphasis: Organizational Leadership: Project Leadership & Management), M.S. in Computer Information Technology- Area of Emphasis: Management of Technologies (Regis University), M.S. in Educational Technology (DeVry University), M.B.A. Areas of concentration: Finance and Marketing (University of St. Thomas), and B.B.A. Major: Corporate Financial Management (St. Mary's University).
Dr. Flores is a member of the Project Management Institute (PMI), the Scrum Alliance, and the Society for Human Resource Management (SHRM). His research interests involve investigating the benefits of project management to small business owners, the implementation of Agile Scrum in a global environment, and the review of technological tools that improve individual performance.
Program Director:
Juan J. Martinez, JD, MBA
Expertise, enthusiasm, and caring equals a champion teaching professional and a pretty good human being as well.
Juan J. Martinez, JD, MBA
Dr. Martinez has had a dynamic career in a variety of industries including startup, legal, finance, sales, marketing, and higher education.? His domestic and international executive background aside, Dr. Martinez has over 10 years of teaching experience in academia, both on-line and on ground.?
To say that he is passionate about his interests is an understatement.? Dr. Martinez is passionate about many things but is extremely passionate about business/entrepreneurship, the law, and serving in higher education.? His various business concerns, his legal work, and his teaching evidence these passions.? Competence without passion generally results in failure is a favorite saying of his.?
His academic experience includes a Bachelor of Arts in Psychology and Marketing from The Ohio State University, a Masters of Business Administration in Marketing from The University of Toledo Graduate School of Business, and a Doctor of Jurisprudence from the University of Detroit Mercy School of Law.?
In life, Dr. Martinez seeks challenge, enlightenment, and opportunities, business or otherwise, where he can make a difference in peoples' lives and where he can use his competencies to their fullest.? Opportunities or situations that do not allow this are immediately cast aside.? Happiness, he says, must be earned.
Students, colleagues, and clients can expect honor, passion, and an explosive personality from him.?